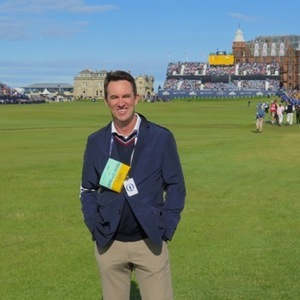 Geoff Shackelford
Co-Host of State Of The Game
Geoff Shackelford is a Senior Writer for Golfweek magazine, a weekly contributor to Golf Channel's Morning Drive and Golf Central, is co-host of The Ringer's ShackHouse and is the author of eleven books.
His writing has also appeared in The Los Angeles Times, Sports Illustrated, Golf Magazine, Links, Golf Digest, Golf World, The Golfer, Golfweb, Golf Journal (R.I.P.), The Masters Journal, Golf Course Architecture, Golf Architecture, Golf Digest Index, Golf Digest, Golf World and golf.com.
GeoffShackelford.com was created in March 2003 to elaborate on various subjects covered in the author's books including The Future of Golf. GeoffShackelford.com was named one of the Internet's 10 best golf web sites in 2004 by SportsIllustrated.com's Gary Van Sickle and in January, 2011 became a partner website to GolfDigest.com.
Geoff attended Pepperdine University in Malibu, California where he was member of the golf team, graduating in 1994 with a B.A. in Communication. In 2004 and 2005, The Golfer named him one of "modern golf's ten most influential writers."
Having studied golf courses all over the world with a noted interest in the "classic courses" of the 1920's, Geoff is engaged in design consulting at several classic courses and has taught golf course restoration at Harvard University's Graduate School of Design with noted architect Brian Silva.He has also addressed many groups on the subject of golf course design, including the American Society of Golf Course Architects, the Alister MacKenzie Society and the Golf Digest Panelist Summit.
Beginning in 2000, Geoff co-designed Rustic Canyon Golf Course in Moorpark, California.
A collaboration with architect Gil Hanse of Malvern, Pennsylvania, construction of the course began in 2001, with the layout opening in April, 2002. Rustic Canyon was named by Golf Digest as the Best New Affordable Public Course in America for 2002. It was ranked 76th in Golfweek's Top 100 Modern Courses for 2006. Rustic Canyon is also ranked 83rd in Golf Magazine's Top 100 You Can Play (2006). Another collaboration with Hanse and Jim Wagner produced the Horse Course at the Prairie Club (2009). In 2010, a restoration of George Thomas's Los Angeles Country Club's North Course design was unveiled, followed by a renovation of the club's South Course in 2016.
In 2011 he published his first non-golf book about his visits with racing legend Zenyatta.
In 2017 GeoffShackelford.com became part of the USA Today Sports Media Group's network.
Geoff Shackelford has hosted 126 Episodes.